With the holiday season just around the corner, you can already feel the magic (and excitement) in the air! Many are already looking forward to holiday shopping, gathering with friends and family, and of course, all the parties and celebrations. But, with so many events on the calendar, there's one important thing to consider: what are you going to wear to all these holiday functions and events? We've got a few fabulous ideas on how to style the perfect holiday outfit – and the perfect hair accessories to match!
Tartan is Topping This Year's Trends
We're loving tartan, and – as it turns out – a lot of other people are, too! Already we are beginning to see this classic and timeless look featured in lots of different places this season.
For casual wear, it's all about the tartan plaid shirt with jeans or slacks. This makes for a cozy, comfortable holiday outfit that pairs well with puffer vests and fur-trimmed boots – so you can stay warm and festive while enjoying outdoor holiday fun, from finding the perfect tree with family to building a snowman with friends! Accessorize this look with a matching tartan scrunchie to keep your hair up and out of the way, and to make it easy to slip those earmuffs off and on.
The formal side of this trend focuses on more chic tartan skirts. Narrow midi skirts in tartan plaid are having a big moment right now. We are seeing this trend paired with sleek, dark stockings and a blouse to match. Make this outfit business-ready by adding a velvet jacket that both complements and contrasts the skirt. For instance, if your tartan skirt is predominately red with a few narrow green bands, then a green velvet blazer is the perfect accessory to complete the look and keep it festive. Top your holiday ensemble off with a padded headband featuring matching tartan fabric, and you'll be ready to take on any formal holiday event in style!
Get Selfie-Ready in Silver and Gold
Metallics are another fun, festive look for this year's holiday season. It all starts with a glitzy, sequin party dress (sequins being another trend that is prominent right now!). Once you've got the perfect dress for a bit of sparkle and shine, the next step is to dress it up with accessories. Consider a sparkling, matching handbag, or even a pair of silver or gold hoops.
Now it's time for hair accessories to complete the style! Pearled hair accessories are very on-trend this season, and it's even possible to find pearled headbands and bobby pins in silver and gold (rather than traditional white pearl shades). Rhinestone bobby pins and hair clips are also super popular and work well to help create a selfie-worthy holiday look.
Luxurious and Rich Velvet
Much like the tartan trend, velvet is up and coming, and there are a few unique ways to style it. One way to wear velvet is as cozy wear for around the house. We are seeing a lot of loungewear collections featuring velvet pants and a matching tunic-style top. This is the perfect Christmas morning set! If you want to upgrade it for adorable family photos while opening presents, go with a red velvet headband or scrunchie to match. Bonus points if your hair accessories feature a little bit of white fur trim to capture a Santa-themed look!
For parties, it's all about the velvet dress. Rich and dusky colors are favored here — black, navy blue, dark forest green, and burgundy. Continue the theme with a velvet choker necklace and a padded velvet headband to top it all off.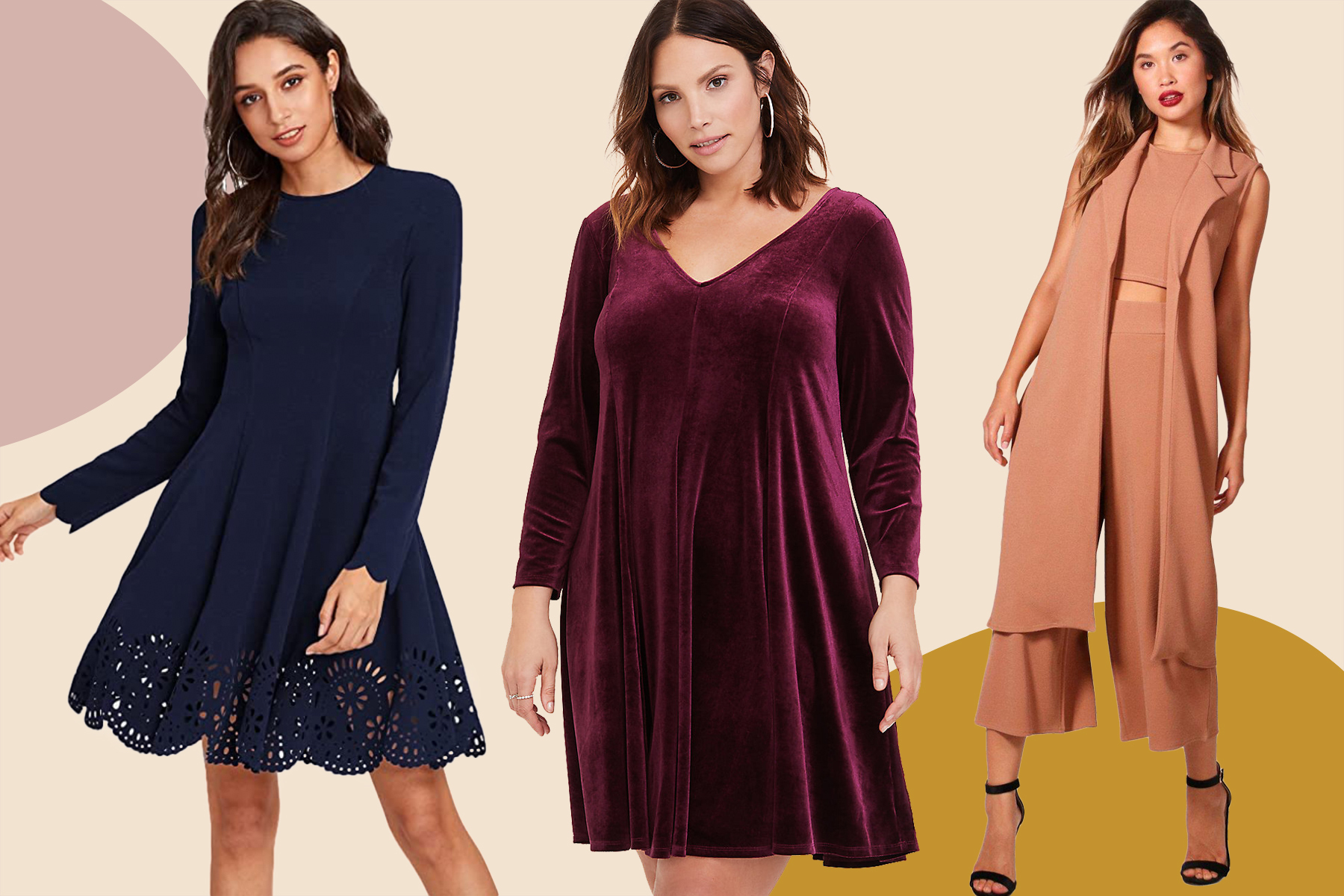 Deck Yourself in Pearls
Pearls go with everything — as evidenced by the tartan trend up above! That may be part of the reason why they're featured so prominently in this year's accessory trends. To get in on this trend, think of non-traditional pearls. That includes metallic pearls rather than the usual colors. This trend is less about traditional pearl necklaces and more about inventive statement pieces. Cuff bracelets with embedded pearls are one option, as are pearl pendants. Pearled headbands make great jewelry for your hair, but other styles to consider are bobby pins and barrettes featuring a few beautiful pearls. Incorporate pearls into your holiday look for an added element of sophistication and elegance.
The Color of the Season: Rusty Orange
Looking for some new ideas to add to your holiday palette? While jewel tones are prominent this year, there is one color that has come out on top: a deep, rusty orange shade that hearkens back to pumpkin spice and everything nice! While this color is popular for fall wardrobes, this trend is making its way into winter fashions, too. Flowing dresses and skirts in rusty orange are a popular fashion this season.
But, what do you pair with deep orange? Animal prints are one option; leopard spots and snakeskin are two good choices to bring in through things like boots or hair accessories. Basic black is another popular choice. Pair an orange skirt with a sleek black blouse, and add black velvet or lace hair accessories to keep the look sharp!
For the perfect holiday outfit, there are so many great options to choose from this year! These ideas will take your holiday wardrobe from parties to cozy mornings indoors. Just don't forget to add in the right jewelry and hair accessories to complete the look! Have a happy (and stylish) holiday(s)!